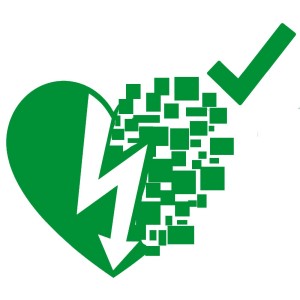 Italians hit by cardiac arrest are roughly 70000 each year: a person every nine minutes, to be precise.
As if the whole city of Pavia disappeared each year.
These figures are not randomly generated, but official data, confirmed by the Provincial Cardiac Arrest Registry.
You could be the one to make the difference in case of emergency; tipping the scales of the chances of survival.
This is why Public Administrations, Associations and Corporations often go the extra mile and buy Automated, External Defibrillators (DAE).
Ensuring a constant monitoring of the instrument is of paramount importance as well.
The defibrillator, though, is often left to himself and neither the emergency services, nor the owners are capable to continuously monitor the state of the instrument.
Together with Pavia nel Cuore ONLUS, a no-profit organisation that has been active in Pavia and its vicinity, we invented an App, freely installable on every smartphone.
With it, anyone will be able to identify a DAE in a simple way (using a QR code or the geolocation) and then be guided to verify the functionality of it. A registry will pick up these data and it will point out which DAEs need to be checked and, if necessary, notify the owner / manager of the instrument.
Thanks to this project every DAEs managed from Pavia nel Cuore and Robbio nel cuore (more or less 65 devices) will be constantly monitored, and it will be possible to extend the span of control to the whole national territory with immediate benefit.
Thanks to a correct and efficient monitoring of the DAEs and your precious help, we could help triple the chances of survival of people struck by out-of-hospital cardiac arrest.
——————————————————————————————————————————————————————————————————————————————————————————————–
10.000 euro: Make it work
Design and implementation of the DAEnobis app and backend system (database and web application) in their most essential parts, including go-live. Rollout of the system to provide support to all of the (approximately 65) AEDs managed by Pavia nel Cuore and Robbio nel Cuore. Hosting of the system provided by BMI lab "Mario Stefanelli" for 1 year
20.000 euro: Make it nicer
Implementation of advanced functionalities for the web application: e.g. google maps integration for geolocation, outbound notification for AED owners and managers in case of faults and support for maintenance planning.
30.000 euro: Make it scale
Implementation of the admin interface allowing users to independently manage their AEDs (e.g. register new devices, generate QRcode identifiers, monitor his registered devices). Migration to a more scalable hosting solution (outsourced paid service) able to cope with a higher number of user and guaranteeing appropriate levels of service.
Links
http://www.pavianelcuore.it/
http://cht.unipv.it/index.php/it/
http://www.biomeris.com/index.php
http://www.resuscitationjournal.com/article/S0300-9572(16)30172-1/abstract
http://www.resuscitationjournal.com/article/S0300-9572(16)30304-5/fulltext
Video